The Bachelorette: Clare: Week 1: It's too early for man-to-man issues
Here we go again! I really don't know why I torture myself blogging like this, but I really need to get back into a regular blogging routine, so maybe that's why. I've been off whack for a year because I'm just been so busy, and let me tell you, I've not slowed down during the past 7 months of COVID.
I may not have had reason to get out of the house, and I haven't been doing craft stuff either, but I have been putting in a lot of work hours and I'm feeling it. I'm not sure if blogging for two hours on The Bachelorette is going to be a wind down or wind up. But, here we go.
I can't say that I'm a fan of Clare Crawley, but I am a fan of an older Bachelorette. At 39, she's just four years younger than I am, so I can relate more than a someone 24 in some way. I have a stupid and pointless hope that an older contestant might bring about more maturity and be a bit more relatable. I know it won't happen, but one could wish.
For one thing, the men are mostly quite a bit younger than she is. Part of casting before getting a woman picked. Then a shift with COVID. Then, I guess they better be young because rumor has it (or not so much rumor but confirmed fact), we're going to have a change of Bachelorette at some point. I wonder when that's going to come about.
Instead of being at the usual Bachelor Mansion, they had to do something else... COVID free.
In February, Chris called up Clare to ask her to be the Bachelorette. She eagerly agrees to join up. She hasn't found love since she got rejected by Juan Pablo and gave him what for at her final rose ceremony. Then, she headed to Bachelor in Paradise and talked to the raccoons because she was half-crazy.
But all of that has made her stronger, and it is her time (or so she declares).
In March, they were set to start filming, but California was shut down two days before they started. In April, she was going crazy on her couch alone. (Weren't we all?)
Clare thought it would never happen, but in June, they headed to LaQuinta, CA where they have a resort all to themselves to start taping. They tested everyone for COVID before they got started. They should have tested them for more than that, but... nevermind.
She's happy to hug and kiss knowing she won't get COVID. #facepalm
Once the men arrive, they are all quarantined before they are tested. We are witnesses to swabs shoved up some noses. Other men take bubble baths and give themselves facials. Another guy places chess against himself. Another jumps on his bed and hits his head on the ceiling.
After their negative tests after a few days of quarantine, they are cleared to interact with all the others at their secluded resort.
I want to go to a resort and get to socialize with people.
Just when we think it's time to meet the men, we have to endure the sit-down between Chris Harrison and Clare. Clare wants a man that is there for her. She's going to challenge him.
Clare talks about how different she is now from the woman who got out of the limo after an abusive relationship seven years ago when she met Juan Pablo. She wants to meet a man who was a true gentleman like her father. She has a DVD that her father left her right before he died that she has never watched. She won't watch it until she has her man as it was a message for the man she marries.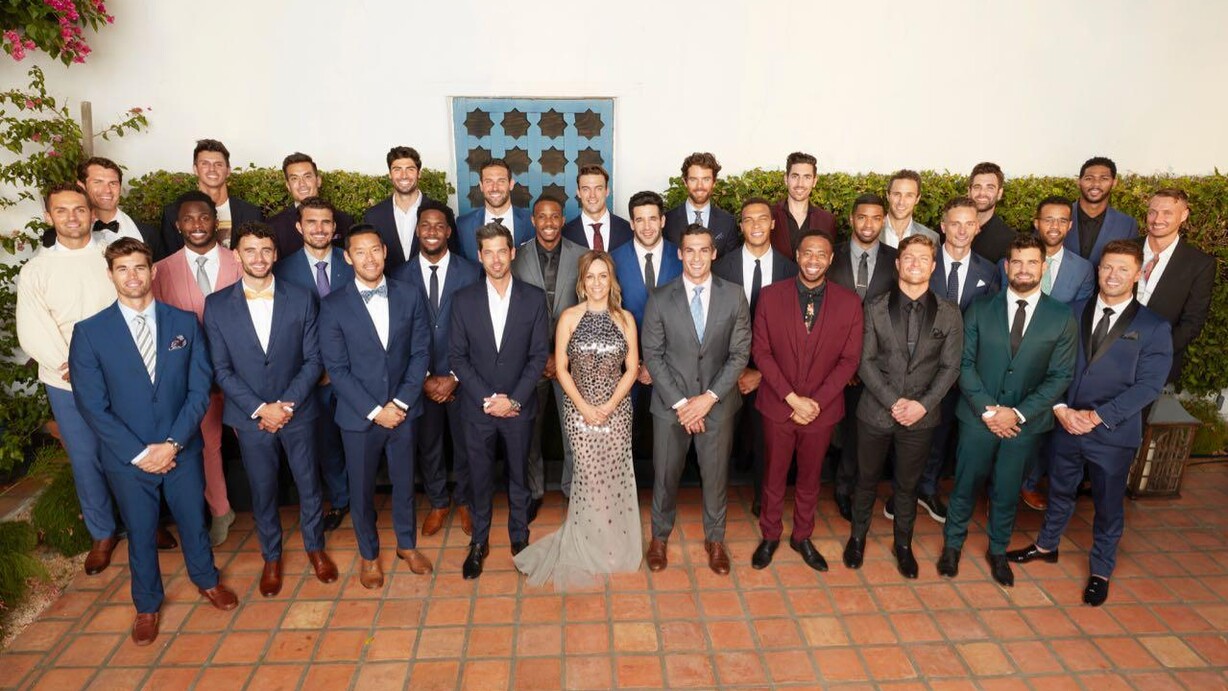 The thirty-one men are:
Ben - 29 - Army Ranger Veteran - Venice, CA -- In quarantine, he said he was used to being in seclusion by himself in the past. It didn't bother him. He takes a deep breath with Clare. It was much needed in her book.
Riley - 30 - Attorney - Long Island City, NY -- As an attorney, he helps a jury come to a verdict. His verdict is Clare is beautiful in that dress.
Zac C. - 36 - Addiction Specialist - Haddonfield, NJ -- They hug and talk about how long it has been since they've hugged anyone. Her first impression is he's a sweet guy.
Jordan M. - 30 - Cyber Security Engineer - Santa Monica, CA -- He is basketball player tall. It also looks like he couldn't find pants to fit because of that. Like waiting for the flood. But, I guess that is stylish. He has on velvet shoes that Clare complimented as he walked up.
Jason - 31 - Former Pro Football Lineman - Arlington, VA -- In honor of Clare's entrance all those years ago (with a fake baby belly) he has his own fake quarantine gut. I forgot about Clare doing that. When he goes in, Jordan asks him about his godchild.
Ivan - 28 - Aeronautical Engineer - Dallas, TX -- His mom is from the Philippines, so he greets her in his mom's native language.
Kenny - 39 - Boy Band Manager - Chicago, IL -- He wears a t-shirt with a picture of her dogs on it. Clare wants to pet them.
Brendan - 30 - Commercial Roofer - Milford, MA -- His moment is quick. He wears a bow tie. I think bow ties are dorky, so that's my impression of him.
Mike - 38 - Digital Media Adviser - Calgary, AL, Canada -- Because it's a long night, he brought her some sandals to wear to be more comfortable.
(Let me just add here that I typed up all the guys, locations, ages, etc. off the cast bios so that I wouldn't have to pause so much as I got all the details, but they are going so fast through the guys that I'm still having to pause so I can find, cut and paste the names to do this.)
Jeremy - 40 - Banker - Washington, DC -- He promises to try to make her laugh as much as possible.
Blake Monar - 31- Male Grooming Specialist - Phoenix, AZ -- There's some assumptions I could make about that profession, but let's just not go anywhere near that.
Tyler C. - 27 - Lawyer - Morgantown, WV -- He packed up his whole life in an old station wagon and drove it up to meet her. He promises when he cleans it out there's room for kids. He has an accent, and she asks where he's from. He just leaves his station wagon sitting out front. Someone else has to move it.
Bennett - 36 - Wealth Management Consultant - New York, NY -- He rolls up in a Rolls Royce. He has a tux and scarf. An impression yes, but do you want to come off as a snob?
Blake Moynes - 29 - Wildlife Manager - Hamilton, ON, Canada -- He's one of the more attractive in my book, but I think he's going to be trouble.
Chris - 27 - Landscape Design Salesman - Salt Lake City, UT -- He's waited 139 days to meet her.
AJ - 28 - Software Salesman - Playa Del Rey, CA -- I don't like his maroon suit. His friends say he gives terrible first impressions. He twirled her to get him started. He squeezed her hands too hard.
Joe - 36 - Anesthesiologist - New York, NY -- "I'm here to save your life... your love life."
Garin - 34 - Professor of Journalism - North Hollywood, CA -- Another maroon suit. He tells her how much fun they are going to have because he's there to have fun.
Robby - 31 - Insurance Broker - Tampa, FL -- One of the quieter guys it seems.
Eazy - 29 - Sports Marketing Agent - Newport Beach, CA -- He runs through a big paper sign that says "Future Husband." He wears a salmony pink three-piece suit that is garish in my opinion. I can't spell what his real name is. That's why he goes by Eazy. He also used to play football.
Jay - 29 - Fitness Director - Ft. Lauderdale, FL -- His gimmick is arriving in a straight jacket because he went a little crazy waiting to get there.
Chasen - 31- IT Account Executive - San Diego, CA -- He arrives in a suit of armor.
Demar - 26 - Spin Cycling Instructor - Scottsdale, AZ -- Wearing a parachute pack, he says he may have already fallen for her.
Ed - 36 - Health Care Salesman - Miami, FL -- He arrives in his own bubble.
Yosef - 30 - Medical Device Salesman - Daphne, AL -- Arrives with a plate of moon pies.
Jordan C. - 26 - Software Account Executive - New York, NY -- He brings popcorn.
Zach J. - 37 - Cleaning Service Owner - St. George, UT -- He gets down on one knee and opens what looks like a jewelry box. It's part of a figure with his pants pulled down mooning the recipient and it makes farting noises. How is that a good first impression?
Brandon - 28 - Real Estate Agent - Cleveland, OH -- He is the only guy this far to kiss her on the cheek.
Dale - 31 - Former Pro Football Wide Receiver - Brandon, SD -- He hugs her so big he picks her up. She is smitten with him. She comments that it feels like she just met her husband. She has a big reaction to him. So big that Chris Harrison has to step back out and talk to her.
Page - 27 - Chef - Austin, TX -- Not much of an impression there.
Tyler S. - 36 - Music Manager - Georgetown, TX -- She's just speeding through them now.
After coming in and doing her little intro speech, the first man to pull her away is I have no idea. C'mon flash his name. (Chasen or Jeremy - I'm trying to compare to website photos, but still not sure. Chasen.)
I think if half these men knew how old she was though they wouldn't be there.
Eazy talks with her about how they kick back and relax. She talks about her dogs. He talks about his mom calling him every Sunday and asking if he went to church and met any women.
When she sits down with Dale, she seems a bit more serious. They talk about her mom and how she's doing. He talks about dealing with his sister's health issues and understanding where she's coming from. He talks about finding out she was the Bachelorette when it was announced. She says on an interview that there's butterflies talking to Dale, but everything felt so natural.
When the men are gathered in a group, her dog runs in and she jokes it's a test to see how they react to her.
There's a parade of various men trying different ways to get her attention. Joe and his origami. Bubble man and trying to bowl in the bubble.
The guy from Long Island talks about the movie My Cousin Vinnie. That feel flat, so they bond over loving the outdoors. (That was Jason.)
Chris Harrison rolls in at some point with the first impression rose. I think we know where that is going.
Yosef is a dad, and he thinks he is going to get that first impression rose. He says being a good dad is showing how a woman ought to be treated.
Tyler C. was in a special to know something about Yosef ahead of time. He was flirting it up on Instagram with friends of Tyler. No clue how they ran in the same circles. Tyler does pull him off man-to-man. The men sit around watching. Jordan C. wishes he had his popcorn. So, I don't know how Tyler's friend has men from the show DMing her on Instagram. It doesn't go very far as to what was going on. However, Yosef finds Clare to say he thinks Tyler is trying to drag his name through the mud.
Clare goes to get Tyler and talk. This is too early for drama. She sits them both down to talk. The vagueness and explanations already annoy me. Clare doesn't want to keep this going because she has other men to talk to. She leaves them to hash whatever out. I like Tyler for the moment, but I could toss Yosef already.
Blake seems familiar. Did we meet him somewhere? Blake was the only one to reach out to her during quarantine. She nails him for breaking the rules of contact, but that meant a lot to her in a time she was struggling. They exchange the first kiss of the season.
Clare finally goes in for the first impression rose.
Yep. Dale. Blake was sitting there and for a brief second, I wondered. Only a millisecond.
She tells Dale of all the people she talked to, she wants to talk to him more. They also kiss.
Chris Harrison taps the glass, ends the party, and Clare heads out to figure out who gets a rose. There were some guys she wanted to talk to, but didn't, so apologizes on her way out.
Rose time!
Blake Moynes
Eazy
Ben
Riley
Zack J.
Tyler S.
Joe
Jason
Demar
Chasen
Jordan C.
Blake Monar
Kenny (He had been freaking out until then.)
Brendan
Garin
Ed
Bennett
Zac C.
Jay
Brandon
Ivan
Yosef (I really dislike him already. There's something about him.)
Going home:
Mike
Chris
Jordan C.
Page (He didn't get to show the tattoo he wanted to show her.)
Robby
Jeremy
Bennett
AJ
To close out the evening, we get a peek at some of the dates. There appears to be some mature audience moments and by that I don't mean in respectful behavior.
Evidently, she falls for Dale and leaves early. But, it will be dramatic getting there.
We shall see!