The longest, most boring night of #thebachelor this season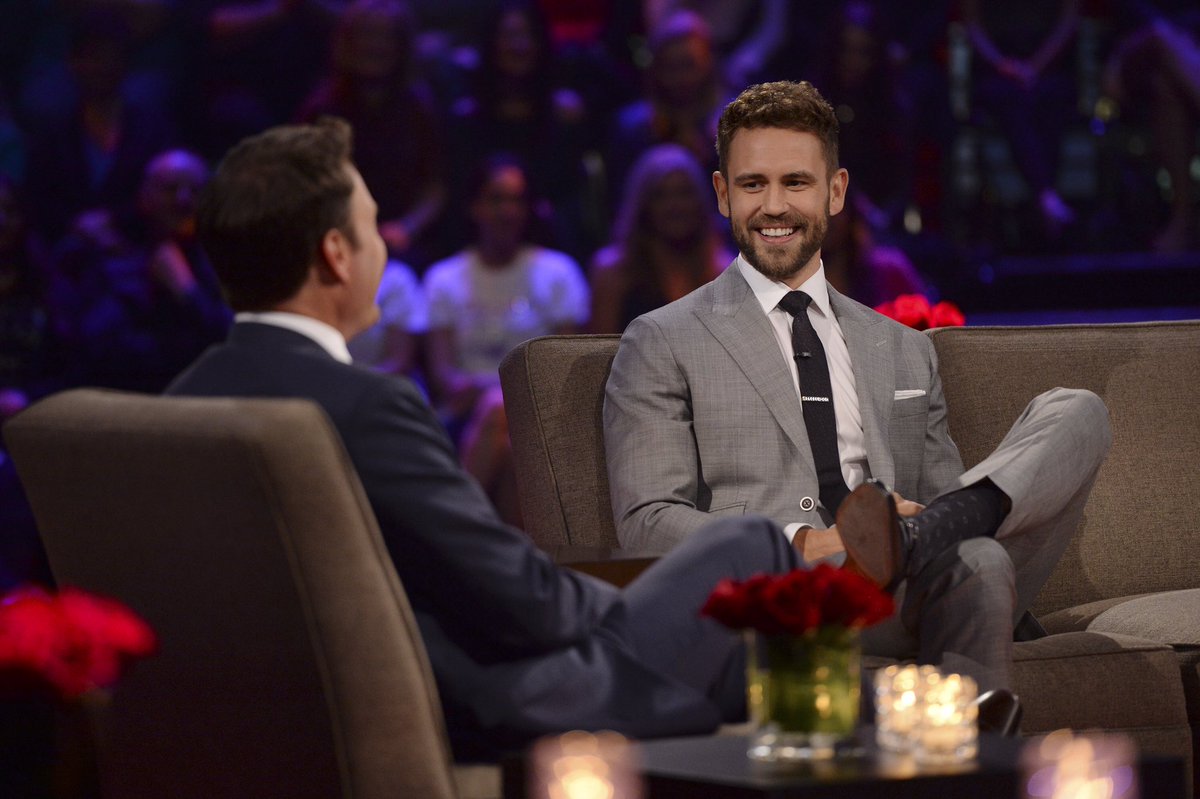 @BachelorABC on Twitter
Gotta be honest. I'm not looking forward to three hours of blogging on
The Bachelor
tonight. By the time it's all said and done, I'll be on the computer 12 hours today. I don't know why I torture myself.
We're back in "Romantic Finland." Someone told me last week told me Finland was not romantic. I wouldn't know, but tend to take his word.
We start off with the morning after Raven and Nick's date. Raven hints at what may have gone on after the cameras went off. She's dancing around the streets happy as can be and doing snow angels.
Next up is Rachel.
Rachel compares the beauty and magical quality of all the snow to being in Narnia. We finally see some enthusiasm from Rachel. She's hasn't been especially peppy thus far, in my opinion. She considers herself athletic, but she has problems with cross country skiing.
They ski to a "safari" where they feed reindeer and warm up in a hut for lack of a better description with a fire. They take the time to chat. Rachel says she's having a hard time really realizing she's here. She's scared. Scared of rejection. Scared of her feelings not being reciprocated. Nick admits he is scared too, but talks about the moments they found comfort together.
Then, they take a sled ride on a sled/sleigh they basically have to lay down on, or at least they do lay on. Seems uncomfortable actually.
When they head indoors for the evening portion of their date, Rachel knows she needs to verbally express her feelings and utter the word, "love," but is scared to. As they talk more, he mumbles about having a hard time saying things when he doesn't know where he stands. Rachel asks if he knows where he stands with her. Of course, he can't say. He just says, "Not 100%." He goes on to add that she needs to give herself the freedom to speak and get out of her head. (Nick does need to know where she stands, even if he can't say the same.) She blurts out that she's falling in love with him. He doesn't use the L word, but does say that he's falling for her 100%. With that, they kiss and Nick give her the fantasy suite invite. She instantly says, "Yes, I would love to."
Now, she claims she feels loved. Rachel thinks Nick is the man she belongs with.
They are all happy and sweet and lovey as he cooks her breakfast the next morning. Rachel doesn't want to say, "goodbye." It's getting harder and harder she claims. The date seems to have gone better than Raven's, but we all know Rachel is the next Bachelorette, so it's all rather unbelievable.
Now, it's Vanessa's turn.
Vanessa didn't think last week's hometown date went as well as she hoped. She thinks they need to talk a lot. Nick thinks last week was too serious and they need to get out of their heads. Not sure how this is going to go.
Since their physical relationship has always been hot and steamy, they are going to cool things off and take an ice bath. I lose my breath just thinking about this. The plan is to go from a hot sauna into the cold bath and back and forth. Vanessa isn't loving Nick right now. They have to run a good bit from the sauna into the bath. They don't last 10 seconds which was what the challenge was. They run to the sauna super fast. Then they decide to rely on body heat to warm each other. Then, they decide to try it again. They last a few seconds longer. Vanessa starts thinking it's fun.
Finally, they end up in a hot tub and talk about Montreal. Her big family. How they are traditional, but he's not. She starts getting defensive pretty quick. He's a little nervous about being in a relationship with someone who is so tight with her family, whose family is very present in her daily life. Vanessa starts talking about core values and what she's not willing to compromise. The first thing is three hour lunches with her family every Sunday. Nick quickly changes the subject to how similar they are--how stubborn they are. Vanessa does think he needs to be able to compromise though.
After what Vanessa calls a confusing day, they continue the evening portion of the date around a fire in a what really is a big Finnish hut/tent/teepee. She brings back up the traditional family part. Nick claims he likes it and didn't mean it was bad. It interests him. He wants to meet in the middle. She talks about how things always get so serious with them, yet she really starts this. Nick is unsure about moving to Canada because he is proud to be an American. Vanessa is proud to be a Canadian.
Even if it is US vs. Canada, moving to another country is a big deal. Vanessa brings up core values again. Back to tradition. I get that she wants to be sure about her decision, but I'm tired of listening to her. She eventually moves on to talking about how she's falling in love with him.
Nick finally hands over the fantasy suite card, probably to shut her up. She accepts.
Given the scene from the next morning, Nick evidently did indeed go three for three in the suite.
It's a new date, and all of the women reflect on their experience.
All three women think they are in love and see themselves with Nick in the end. Then, there's the realization other women are still there. They all get dressed up for the rose ceremony. All wear black, appropriately enough. Nick is in tears as he gives his little speech. He picks up a rose.
Raven.
He picks up the second rose. Rachel looks freaked. Vanessa appeared to be holding it together better.
Vanessa.
Though their date seemed to go well, we knew this was coming for how many weeks now? Rachel is in tears as Nick tells her how hard it is to say goodbye to her.
After an hour of that, we move on to an hour of "The Women Tell All."
I zone out as clips are shown of Nick crashing watching parties. I'm looking up other things online during this segment.
After a commercial break, Chris Harrison claims the night was like none other. It wasn't all that different. Chris introduces all the women there tonight, including some people I don't remember. They aren't sitting in the order they were eliminated either.
Chris starts by talking about the first night when they arrived. He describes one of the biggest controversies was Alexis arriving in costume. Shark or dolphin? Even if it was supposed to be a dolphin, it was a shark.
Then, cue the clips from early in the season. It culminates in clips of Taylor talking about what she thinks Nick wants and "emotional intelligence." Corinne behaving badly. Women questioning Corinne's maturity. Corinne smiling while watching clips of herself.
Chris asks when the drama first started. The first group date. Lacey says Corinne wasn't out for the girls (when she stripped), but was trying to get attention. Then, it's all yapping about taking a nap during the rose ceremony.
Quickly, everyone turns on Taylor and talk over each other. Josephine leads part of the charge. She's wearing extremely dark lipstick that does not work for her.
The first woman in the hot seat is Liz who met Nick at Jade and Tanner's wedding and slept with him afterwards.
Cue all the clips centering on Liz. Liz and Nick talking. Liz telling her "secret" to other women. As she talks, women are giving Liz looks behind her back. Whitney asks why Liz she didn't try to connect in the time in between the wedding and the season. Liz claims she didn't realize what she signed up for at first, but did realize the connection wasn't there. Then, she gives a speech about being true to yourself and your past not defining you. Then, all the women are nodding along, even if they were shaking their heads 92 seconds before that. Hailey is like Liz's biggest fan. There becomes a love fest.
Next in the hot seat is Taylor. Cue intellectual comments and emotional maturity. Cue Josephine rolling her eyes.
Emotional intelligence. Maturity. Coping skills. Emotional intelligence. Evil eyes from Taylor. John's Hopkins. Counselor. Left alone on two-on-one date. Corinne being obnoxious when Taylor left.
Taylor admits it was rough to watch. Chris asks where things went awry for her. When the drama started. She claims the women wanted to help Corinne out. HOW??? Chris asks for Taylor's definition of emotional intelligence. She defines it as regulating your emotions and determining the emotions of the others around her.
Corinne walks off stage, gets her a glass of champagne and comes back. Taylor gets emotional. She feels shamed for being in the counseling profession. She says what Corinne said made an impact on her life and career. Taylor thinks it would be nice to have some kind of apology. Corinne says she never spoke a bad word ever to anyone until Taylor started treating people like trash. The way women were rolling their eyes, I don't know that Taylor had a friend in the house.
Now, Corinne, "the most controversial woman of all time."
First off, Corinne claims Taylor didn't get to know her before talking about her to Nick. Cue the reel of all of Corinne's most obnoxious and drunken moments... and moments of her grabbing her own cleavage. She claims just wanting to come across as flirty and fun, not promiscuous. Chris quizzes her about not going to the rose ceremony after getting a group rose. She talks about the fact everyone takes naps just like everyone poops.
The women point out how Corinne did call people names. There's lots of talking over each other finger pointing. She's over everyone talking. Why were they worried about her? All she was worried about was Nick.
Corinne makes a deal of the fact Taylor napped too. She points lots of fingers yet acts like she did nothing wrong. After a commercial break, it's Taylor vs. Corinne part two. Chris points out they aren't actually speaking to each other. Taylor makes an apology, but does not get one in return.
Chris moves the conversation to Raquel. Everyone needs a Raquel in their life. (I wish I had a nanny to take care of me, cook, and clean.) Corinne explains all the reasons why Raquel means so much to her given how her mother had cancer. etc. Corinne uses the word nanny because she's not a cleaning lady. She used it as a term of respect. Corinne then passes out cheese pasta to all the women and to the audience.
Up next... Kristina.
Instead of lots of individual clips, we see Kristina telling her story about the orphanage followed by Nick telling her goodbye. It almost brings tears back to her eyes. She's not used to being vulnerable.
The women are all emotionally touched. Liz is bawling. At least everyone is kind to her.
Now, Nick gets his turn in the hot seat.
Nick is nervous. Even though it's his third full season, this is his first "Tell All." Previously, he was a final two so didn't get to be a part of one of these.
After a little chit chat with someone I don't remember, Chris asks Nick about Corinne. That was quick and painless, thankfully. He does get choked up when talking about Kristina. I have a little bit of a problem understanding what she is saying to him at first. She was surprised to not get a hometown and beyond because she thought everything was going well. What's really distracting is someone's chest behind her. It's a super low cut dress, and all you can see is side boob.
Danielle is uber emotional asking what happened with her. She wishes he would have sent her home rather than going through the two-on-one date.
From there, Chris asks the difference between his previous experiences vs. this time around. Blah, blah. Dominique asks Nick about sending home the women that seemed to have the qualities he was looking for. No real good answer there either.
Time for the blooper real. Insects are always involved. Even that was boring. Nothing made me laugh.
Introducing, Rachel, the new Bachelorette.
"How does it feel?," Chris Harrison asks. She claims to not have a physical type. She really is looking for someone ready to be married.
All the women are cheering her on and seem to be happy for her. They also claim they will take her leftovers.
From there, they talk about her being the first African American Bachelorette. Before the show ends, Nick has to come back out to talk to her. Nick thinks the men will be so lucky to meet her. Rachel claims Nick made her a believer in the show.
The last few minutes is previews of next week.
I'm ready for Nick to pick someone and be done. I will not, however, be able to blog along with the show next week. I will say here that I think it's Raven.