The Bachelorettes don't have talent on #thebachelor
Something is in the air at the mansion tonight. Anxiety? Rejection? Anticipation?
Chris Harrison arrives to tell the women that Ben is in Las Vegas and waiting on the women to arrive. The first date card will be waiting in the suite in Las Vegas.
The Taylor Swift twins that no one can tell a part were born and raised in Vegas, so they are going home, literally. They may be going home this week if you know what I mean.
Olivia is going to whisper in Ben's ear that she wants a one-on-one and Celine Dion.When they arrive, they see a sign from Ben welcoming them. They squeal way too much and if they think that's romantic, they are nuts.
When they arrive at the Aria Suites, Caila finds the date card.
"JoJo, you set my heart on fire..."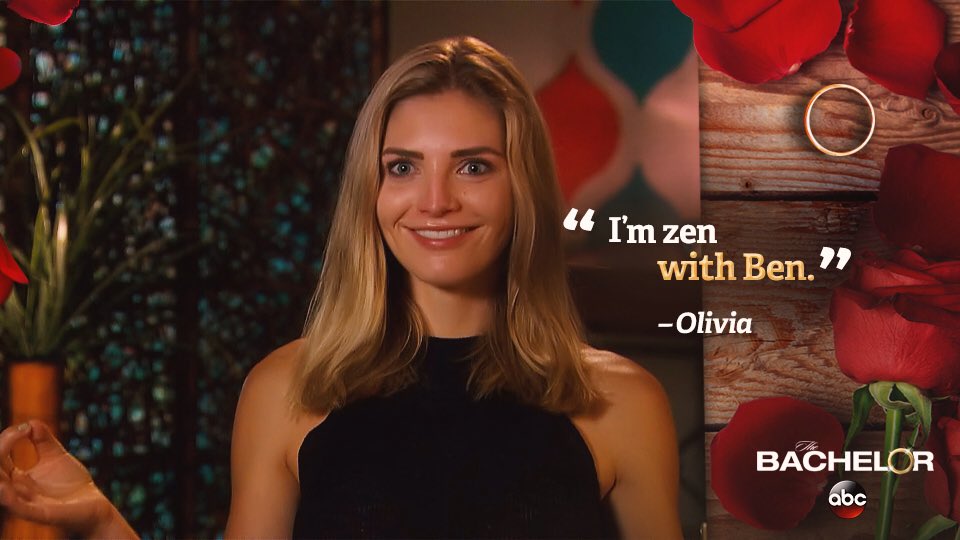 Olivia has the most fake look on her face. She's Zen with Ben (her words, not mine), so she's not worried about anyone else dating him. So she says before the commercial. I have a feeling her Zen is short lived. She doesn't see how anyone can have what they have.
The twins do EVERYTHING together from work, to sharing a car, to walking on the same treadmill at the same time. No wonder no one knows the difference. (Random short clip in middle of the show.)
Ben picks up JoJo, they go to the roof, have some wine, and a helicopter arrives. The force of the wind caused by the propellers knocks over their table. They kiss while all the women are watching. Olivia's Zen fades.
JoJo has some "undeniable" chemistry. They are making out in no time. Who knows what they do other than site see, a I mean suck face, on the helicopter.
Amanda, Jubilee, Caila, Lauren B., Amber, Haley, Emily, Leah, Lauren H., Jennifer, Rachel, Olivia...
no message, we just get names.(Later we find out it says "show me what you've got.")
That leaves only Becca, so she'll get the one on one.
Back to sitting around and blah, blah, blah, I want to learn more about you talk in some hotel room in Vegas between JoJo and Ben. She's scared of giving her heart because something in her past has made her cautious. She tells him about a past relationship. Trust issues. More blah, blah, blah talk about the past she was scared to talk about. Thank you for opening up to me, blah, blah, blah, here's a rose.
I really don't know what has been so great about this date, but it's not over yet. They go to check out the view. They must be going to a private concert. Oh, just a rooftop with fireworks, but they do have a great view of the strip.
No hot tub and no private concert. JoJo got ripped off.
All the women here the fireworks and are all wooooo-hooo! Meanwhile Olivia is pouting that she's being cheated on because Ben is her husband in her mind. #delusional
The next day, Olivia has her game face back on. It was a hard day watching him kiss JoJo yesterday.
The girls all show up to Terry Fator's show. I saw Terry Fator perform umpteen times in Texas the Band in Corsicana, TX before America decided he had talent. His show has not changed. That's beside the point.
However, he challenges the women to show their talent. They have to compete for attention. Some people have no talent other than wearing a chicken suit. The twins river dance, Jubilee plays the cello. No one thinks Olivia has talent.
After the women decide their talent, Terry tells the women they have to be his opening act. I'm trying to decide if his Elvis dummy is the same one he had in 1989 or if he had a new one made. Don't get me wrong, I think he has talent, but the show hasn't changed. He's yodeled the same song for decades.
I do not envy the women, performing in front of this crowd.
The twins should have to do their own talent, but they do an Irish clog.
Jubilee plays the cello. I guess it's alright.
Someone juggles.
Someone tries to hula hoop.
There's someone with balloon animals.
Some song to the tune of Old McDonald in a chicken suit.
Olivia comes out of a cake in a show girl outfit. No shoes. Horrible dance. It's embarrassing. Ben is dying laughing. It's bad as she shimmies around. Ben is embarrassed for her, but does stand up to give her a hug when she walks down into the audience.
Meanwhile Terry Fator's dummy sounds just like him. His worse voice ever.
After everyone goes backstage, Olivia has a panic attack.
We break to commercials where Oprah professes her love for bread, saying bread at least 15 times. There are previews for
Grey's Anatomy
. I know it's a medical drama, but how many times can Meredith almost die? She has 9 lives.
Back to Olivia. She knew Ben was mortified. She knew the hug was a pity hug. She better get it together because the cocktail party is about to start.
3-2-1 Olivia is about to pull him off. OH! She's not the first tonight. Caila is first. She's used to being spoiled during a one-on-one, so is more shy, or so she says. When she makes the first move for a kiss, Ben believe's she's a sex panther. He wondered if there would be passion after their first date. Looks like there is.
Olivia is super nervous that her lack of talent will eliminate her. The women are so over her. But is Ben?
Lauren H. and Ben sit in the theater and chat with a puppet. Lauren kisses the puppet first.
Olivia looks for sympathy when she and Ben go off. Ben keeps saying that today was great. She tells him about her breakdown and how awful and embarrassed she was. She said she was trying to screw the comfort zone and can't do sexy. Her begging for attention is getting her no where.
Thankfully Taylor Swift, I mean Emily swoops in. I think it's Emily.
Ben assures Lauren B. that she should not be nervous or compare herself to the others since they had such a great date.
Olivia 400% needs to talk to him again. She interrupts Emily who was talking about Vegas not feeling like home right now. Bad editing where Lauren was in between?
Olivia wants to dance or be awkward. She apologizes for her bad day again. Ben wants her to stop apologizing and gives him a little kiss to make her shut up. After all, earlier was the only time the two had talked that she hadn't gotten a kiss.
Lauren B. gets the date rose.
The next morning, there is a delivery at the suite for Becca. It's a huge box with a wedding dress inside. She's supposed to get dressed.
Haley is particularly jealous. Jubilee snarks about Becca being the appropriate person to wear a white dress.
Becca goes downstairs, into a pink Cadillac and off to The Little White Chapel which I am pretty sure is where my cousin got married. (Brittany Spears also got married there. Dennis Rodman and Carmen Electra - right before friends of my cousin's who also got married there.) He gives a cheezy vow-like speech, gets on one knee and asks her "will you marry... people with me today?" He has been ordained and they are performing ceremonies today. She changes dresses so she's not in a wedding dress all day. Together, they officiate their first wedding and about 10 more after that.
My brother got married in Vegas once. I kind of forgot about that. Don't have a clue where they got married. I was at my cousin's while I was on vacation. I didn't go to his.
Later that night, they go to the neon sign graveyard. New Kids on the Block did a music video here one time. At least they visited and did segments to go on their VHS video of videos.
Back to the episode... Becca says she's more into it and invested in the process this time around. Ben tells her to feel this time. With all these people he tells to feel stuff, he's really going to break some hearts. They discuss her choice to stay a virgin, and she's quite confident in their discussion. He recites some date vows to her and vice versa given how she thought the personalized vows were the best part of their day. He thinks she's awesome, and gives her the date rose.
She can see herself as the future Mrs. Ben Higgins, but she's not insane about it. They do seem to have a connection, but what do I know?
The next morning, Chris Harrison comes bright and early to tell the women that Ben has decided he wants one more date. Ben wants a two-on-one date with the twins in their hometown.
Ben says that dating two sisters has been hard. He's attracted to both. The truth is, he doesn't know which is which. The twins take Ben to their house where they live with their parents. Haley has pictures of her ex-boyfriend in her room. Emily tells Ben to not worry about hurting feelings because they know if it progresses, one has to go further than the other.
Emily and Ben awkwardly lay on the bed and she tries to throw Haley under the bus saying her feelings aren't there, etc.
He does decide one relationship is progressing further than the other. (HOW?) He thinks he knows what he wants to do, but wants to talk to their mom first.
From Mom's perspective, Emily is more dominant, but Haley can be more committal when she warms up. Maybe?
He talks to both of them together and explains that he has to say goodbye with Haley. He does this here, now, so Mom can support her. Mom is smiling. Mom likes Emily better. You can tell by the smile on her face. At least Haley didn't have to do the limo ride of shame.
This may be the first time the two have ever been separated.
It's cocktail party time! Olivia is still all obsessed about the other night and plans to take Ben off first. However, Jennifer beats her to it.
Ben asks Jennifer why she thinks she's still single, but isn't able to answer the question before Olivia interrupts.
Olivia pulls him off to eat cake because she says that is her talent (duh - the mouth) instead of jumping out of cakes. Again she starts in about being awkward and having a bad week. Again, Ben tells her to stop apologizing to him about this. She speaks about herself in the third person with him. This week, the hand squeeze is their secret language.
JoJo is shocked when Olivia tells her that she is falling for Ben and said so. I don't know why JoJo is so shocked.
Meanwhile, Jubilee is scared and Ben says he can tell. He assures her that she needs to be confident. If he says that to all the girls, it's going to hurt more when he doesn't give them a rose.
Ben wants some time to think before he starts handing out roses.
If we are going to have a full rose ceremony tonight, he's going to have to hand out roses fast. The whole time we hear voice overs of Olivia.
JoJo, Lauren B., and Becca already have roses.
Amanda
Lauren H.
Jubilee
Emily
Caila
Jennifer
Leah
And the final rose goes to Olivia. Again. UGH. He acted like it took a lot of thought. Again, she's telling herself he's saving the best for last.
Amber and Rachel are going home.
Amber is devastated. She really wanted a proposal right then. I didn't take her to be one to walk just off set and curl up crying in the fetal position.
The previews for next week are intriguing. The women start warning Ben about Olivia. However, that usually goes bad for them, not their target.