The most boring hometown dates on #thebachelor ever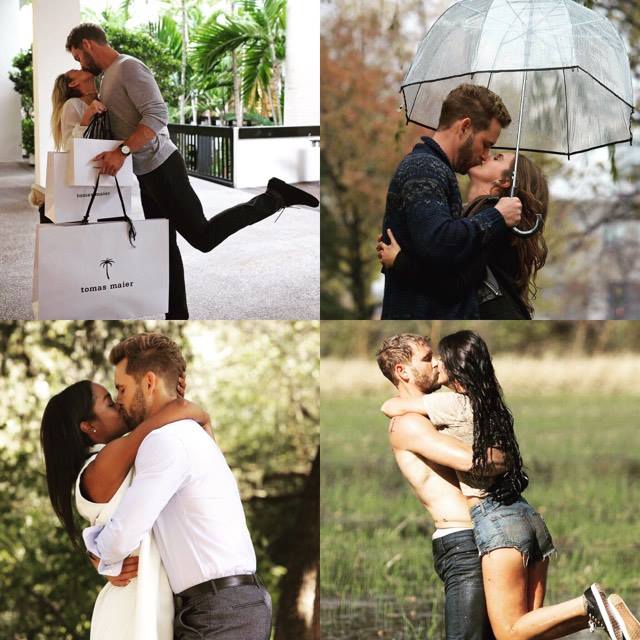 Via @BachelorABC on Twitter
Just after I finished my post on
The Bachelor
from last week (late) and turned off my computer,
Jimmy Kimmel Live
came on and revealed who the next bachelorette will be. It seems as though Nick didn't have as great of a connection with Rachel as it seems. Some kind of spoiler there. Is she the next person Nick sends home before hometowns, or did it go really bad when meeting her family? I guess we are about to find out.
Corinne, Rachel, Raven and Vanessa are wondering if there will only be three hometown dates. Corinne is still shaking in her boots. Nick shows back up from talking to Kristina and sending her home. He tells all the women that the roses are mutual, and he wants them to agree to the dates. Raven has a rose, but he asks again. Next is Vanessa. Corinne? He says he couldn't be more excited to meet Raquel. The ladies get a chuckle out of that. Rachel accepts the last rose.
First stop, Raven's hometown, Hoxie, Arkansas.
They are going four-wheeling. There's not much to do in the town, so you better like doing what country people do. They find a grain bin because that's where you go to have conversations. They climb to the top only to get caught by the local police. Neither of them have their IDs or permission to be there, it seems. Of course, the cop who is busting them is Raven's big brother.
They go back out to race on their four-wheelers and go mudding. Actually, there's more water than mud. Bogging maybe. What a gross place to make out.
After they bathe, they head to Raven's parents' house. Nick has his flowers and chocolate to butter up Mom. They are greeted by Mom, Dad and the cop brother. Mom and Dad have news... Dad has had a scan and he is cancer free. It's an emotional moment. It's a bigger deal, by far, than Nick being there.
Raven and Dad talk about how he will be able to walk her down the aisle instead of her brother or uncle. After they head in from the porch, Mom and Raven talk on the bed. She tells mom he was not as arrogant as she expected. She confesses she's falling for him. Mom trusts her judgment, but asks Raven if she will be able to tell him. She pushes, "Will you be able to say, 'I love you' to Nick?"
Dad and Nick talk on the back porch. Nick asks if he will have permission to propose if they decide to be together in the end. Dad didn't expect to like Nick and tells him as much.
Raven decides she needs to tell Nick how she feels. She stumbles a little, but says there's no hesitation on her end of what should come of this. She still doesn't say those words her mom asked about. He opened the door, but she didn't walk through.
Next up is Dallas, Texas to see Rachel.
Why they have to show a cow to show they are in Texas, I have no clue. Most people in Dallas aren't typically around cows.
To show Nick her people and what she does, Rachel takes him to church. Literally. He has no rhythm to clap along. He doesn't seem comfortable since it's not like his church back home, but he says he enjoys new experiences. Faith was a big part of his parents' upbringing and their life as a couple. Nick thinks he could make this a part of their life. He's "comfortable in a place of worship."
They talk a little bit about whether or not they will draw attention as an interracial couple. It's not a big deal for them. The biggest connection he has had has been with Rachel.
Nick will not be meeting her dad, the judge, due to work obligations. The family Nick does meet includes Rachel's mom, younger sister, cousin, older sister and her husband. Her nephew is also there. Rachel tells that you don't have to have black skin to be in the family, but you have to have thick skin. Her brother-in-law is white.
When they sit down to dinner, they act like the food is foreign to him. It's brisket, mac and cheese and okra. He knows it's okra, but doesn't know what okra is. The two couples take some time to talk. They talk about interracial relationships. He has gone on dates, but hasn't had a serious relationship with a black woman. Nick talks about how she is smart, funny, beautiful, etc., etc.
Mom asks the same question about if he has dated a black woman before. Mom then moves on to asking if there are any red flags he has seen about Rachel. Nick answers they just connected from the beginning. He doesn't know of anything at this point. So far, so good with Mom.
Rachel and her mom go into the bedroom to talk. Mom asks Rachel how serious she is at this point. Rachel can see falling in love with him. She hones in on his sincerity.
This whole date has been a snooze.
I don't know that I am ready for Miami, Florida with Corinne.
He likes that she makes her own rules. She's going to take him shopping for their date. They are at one of the most exclusive malls in Miami. The employees of every store know her. This is a day in the life for her.
Nick thought he had expensive taste until he met Corinne. She finds a load of clothes for him to try. The store brings them champaigne. He tries on $800 sweatpants and a $600 sweatshirt. Nick thinks he's going to have to get a couple of jobs if he ends up with Corinne. She has to talk him into a coat he says he doesn't need. She spends over $3000 on his outfit.
From there, they take a break from shopping at a cafe. She tells him the whole family is really relaxed. First though, she tells him how deep her feelings are for him. She spits out, "I love you." Since he won't say it in return, he simply kisses her.
They head to a high rise to meet the family. The family is skeptical. It's her mom, dad, sister, and Nanny Raquel. Corinne knows her dad is going to be unsure about Nick, but her mom and sister will love her. Mom explains Raquel has been with them 17 years and is like a second mom to the girls. They chow down on Dad's Greek olives, but Nick chokes it down. He does it's the best olive he's eaten though. If he hates olives like I do, that's not saying much.
Corinne and Dad talk. He's shaking his head at the fact she has professed her love already. Nick talks to Raquel. She nods her head a lot. Her English is very broken.
Back to Dad. Does Nick make enough money to keep her happy or is she ok being the bread winner? Dad says he hasn't seen Corinne this happy ever though. Dad and Nick talk next. Nick gets a blessing, but it may be because they were both full of scotch.
In order for mother and daughter to talk, the conversation has to happen on the bed. it's an uninteresting conversation.
Last, but not least, it's to Montreal, Quebec, Canada for his date with Vanessa.
First up, meeting her kids at school. They speak both French and English. She's an adult special needs teacher, so all of the students are over 21. They all have missed her and get very emotional. She gets her students to make a scrapbook of hers and Nick's best moments.
Next up, meeting her parents. Her parents are divorced, but civil. However, she wants to show him how she has to split her time, so he's going to meet them separately. First is her mom's house. She hasn't brought anyone home in three years. She brings Nick home to a crew of 15. There's a brother, sister, aunts, cousins, mother, grandmother and friends. They are a large, Italian family who grill them. The family learns they have not talked in depth about the future. Where will they live?
Mom pulls Nick out to talk. "What is about Vanessa that stood out?" He liked her as soon as he saw her come out of the limo. No, doesn't want to hear that part. Vanessa has so much to offer, she wants to har more. The older sister pushes him on conversations about where they will live and such. This is the biggest grilling of the night. The sister makes Nick cry. Brother asks Vanessa what she would do if she had to move? Now he makes Vanessa cry because he cares so much.
Vanessa and her sister talk next about how the relationship has grown over time. Mom then shares her concerns. It scares Vanessa. She has lots of questions she needs answered now.
Her whole family has really strong Italian/French Canadian accents. So much more so than she does. It's strange.
It's late, but they are headed to meet Vanessa's dad. It's very important to get his approval. It's just her dad and stepmom. After a little recap of all the places they have been, Dad quickly pulls Nick aside. First of all, "what makes Vanessa special?" Blah, blah, blah, blah. "There's still three others..." Yes... more blah, blah. He still has some things to figure out, but if they decided to move forward, would Nick have his blessing. Nope. No, he wouldn't. He can't give it just like that. "Did you ask all the other fathers too?" Nick is sweating. Dad explains why he won't give a blessing outright. Finally, after honest answers, he gives in and says ok.
Meanwhile, another mom and daughter moment sitting on the bed.
Dad tells Vanessa that Nick asked for a blessing. She tells her dad she would say yes if he asked. Vanessa asks her dad if Nick had asked all the families. Dad answers yes. Of course, Vanessa thinks it's less meaningful now. Well, woman, of course he did. If he didn't, he would be tipping his hand. It's what you are supposed to do on a hometown date.
None of the women seem overly confident as they head to New York for the rose ceremony.
Nick admits he has a hard decision to make. He's still really confused. He's been in love before only to have his heart broken. Things can change quickly.
Vanessa needs some answers after hometowns. She now realizes he has feelings for others. She just now figured this out?
We end with a "to be continued" after Andi knocks on Nick's door. What the what?