Chris doesn't need a rose ceremony to send them packing on #thebachelor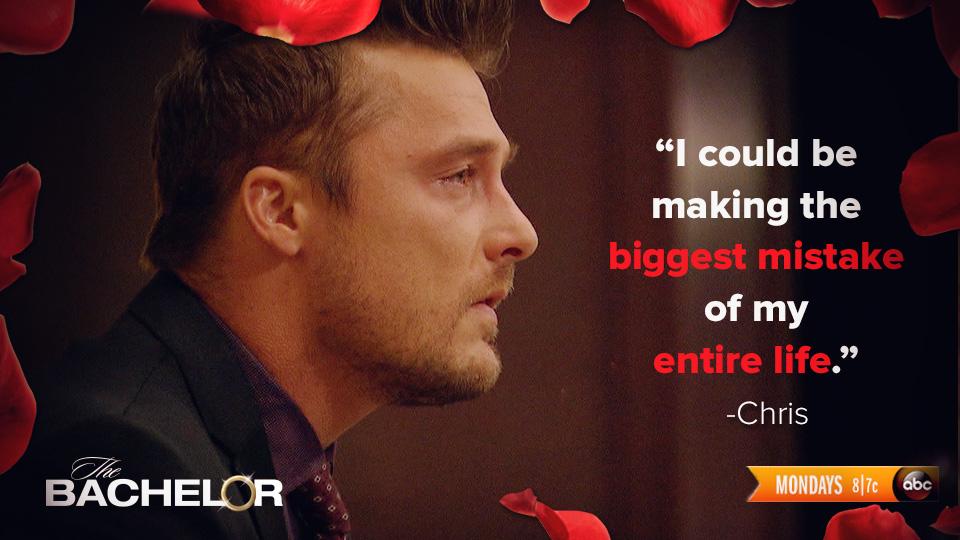 Alright... tonight's episode is going to have to start with some women being sent home because I know Chris is not going to go home with six women.
I guess I missed something last night because he still has one more date before eliminations - his date with Becca. He takes her to the loft he is staying at during taping. He hopes she opens up on this date.
Becca admits to Chris that she's never been in love with anyone because her previous relationship was on and off for four years. When quizzed about what went on there, Becca says that she loved him as a person, but couldn't really see a future. When asked about what is going on with their relationship, she admits that she wouldn't be ready to say yes to a proposal today, but does want to take him home to his family.
They go up on the roof to watch the sunset. Actually, with their eyes closed kissing, I don't think they saw so much sunset. Their dates always seem to be short and non-eventful.
Back at the hotel, the women are talking about the night before.
Britt tells the women that she may pack up and leave before tomorrow night's rose ceremony. She tells her sob story about being in love with him, but is all hurt after not getting the date rose. Carly asks if Chris could say anything to change her mind. Only a 1% chance. I shall from hence forward call her Britt the Bratt.
You see, Chris didn't appreciate her tackiness towards Kaitlyn. He's not so sure about where it's going anymore. He may not try so hard to change her mind anyway.
So, tonight's cocktail party may be interesting. Britt the Bratt is going to tell him she is leaving since she didn't get her way. Jade wants to fill in Chris on her
Playboy
past.
However, Harrison arrives to tell the women that they are going to go straight to rose ceremony. No chit chat first.
Britt has her shocked look on again. She needs to dump him before she gets dumped!
Chris comes in, takes a deep breath, compliments their beauty, and thanks them for their time in Iowa. He's actually falling in love! Yet, he has tough decisions to make.
Before he can finish his sentence, Britt the Bratt interrupts him. As soon as they walk off, they all declare, "I KNEW IT!" Kaitlyn is very vocal. Carly is going to throw up. Whitney is making her stare down face.
Bratt apologizes for what she said, but asks him if he has anything he wants to say. He tells her what a hard position she put him in. Chris also tells Bratt that other women had questioned her sincerity. Bratt asks if it was Carly who said it because she thinks Carly has something against her. He defends Carly saying he wants someone with her reaction. Chris says he'll walk her out. Seems more his decision than hers. Send them home! Send them home!
And as soon as I create a name for her, the Bratt is gone. Someone pass a paper bag to her because she is going to hyperventilate on the sidewalk. The women can hear her inside. Carly is far from mature about it.
Chris needs a moment to gain his composure. He comes back in to tell everyone he sent Britt home because there was something missing, and he didn't think he could trust her. He thanks the women who spoke up.
Now, to hand out roses... Kaitlyn already has hers from the group date.
Whitney
Becca
Jade
Cocky Carly follows Britt the Bratt home. More ugly tears follow. "Why doesn't anybody want me? Why won't anybody love me for me?"
I see her getting an invite for Bachelor Pad or Bachelor in Paradise.
First up is a trip to Shreveport to meet Becca's family.
She jumps on him, happy to see him. They meet in a park. Will he have to protect her from alligators as they paddle around the swamp?
They are both ecstatic for family to be met. She has never brought a guy home. He's not aware just how inexperienced at relationships she is. There's like 20 people there to meet them, including her parents and older sister. He felt comfortable quickly.
Sister at the table of all these people points out that she's never seen Becca with a guy... never held hands with a guy. Sister takes him off for a talk. She tells Chris that Becca is not an intimate person and evidently never has had the urge to be around a guy. Normally, Becca would swat a guy's hand off of her knee.
I wonder if Becca's sister even likes her. She sounds the jealous sort -- like Becca had stolen her boyfriend in the past and wants to sabotage her. Chris thinks he may need to be concerned.
Momma Bear didn't think Becca needed to do the show. Understandable, but Mom's surprised there's affection when they showed up. Having never been in a relationship before, Mom is worried about her daughter getting hurt.
Meanwhile, Sister asks Becca if Chris knows she's a virgin given that the fantasy suite is coming up. Becca plans on talking about it on that evening.
She may not have been in love before, she thinks she's falling in love now. As they kiss goodnight, Chris tells Becca the night is not over - she is coming with him. They go to the Louisiana State Fairgrounds, and they ride the Ferris Wheel. They are all by themselves... except the camera man that has to get in and out of their gondola to shoot scenes, then show them by themselves.
Next up... Whitney in Chicago. She has a fun day planned. She is also going to tell Chris that she loves him. Since he has been to the city, she's going to give him a tour of his life. First up, "let's go make a baby!" Uh... Scary line there Whitney.
She takes him to the office where she works. They put on their scrubs and go into the lab where someone is in the process of fertilizing an egg. Whitney and a co-worker take him to the room where the men give their specimen. I think she expects him to donate. Even if she doesn't get him as a husband, she is going to have his baby. Thankfully, she doesn't make him go through with it.
After Chris' near panic attack, Whitney takes Chris to meet her family. He asks her beforehand whose permission he needs to ask about their future since her mother has died and her father is not a part of her life. He'll need to get the approval of the sister. In addition to a sister and brother-in-law, there's an uncle and grandmother. Uncle Johnny and Chris have a man-to-man that goes well. Whitney uses the word "real" a lot in talking about Chris with her sister, Kimberly. Sister asks about whether or not Whitney can handle small town Iowa. The sisters bicker about whether or not Kimberly can give approval, and if she needs it. Whitney is all emotional because she wants a proposal. When asked by Chris, Sis says she can't do that given there's four girls left. If Chris wants to propose, he needs to call back and get permission when he decides who the one is.
There's that glare from Whitney again. She's wound up thinking her sister ruined it for her. Trying to save the night, Whitney confesses her love. They can see each other in their futures.
The next stop on the tour is Phoenix. More accurately, in a back alley. Her family winters in Phoenix though they live in Alberta, Canada. From the alley, they walk in a door that takes them into a music studio. She's going to make him write and record a rap. Not a good idea. Their rap is horrible, it doesn't rhyme and has no rhythm.
Chris soon meets her parents and step-parents along with a sister. Mom talks to Kaitlyn to see where things are. Kaitlyn sees huge potential for possibly falling in love with this human being. She hearts him. She's great with words. (Not.)
We don't see him talk to any family members alone. That's different. Then, she takes him out another dark alley to see a billboard lit up with Kaitlyn <3 chris.="" div="" love.="" not="">
He knows that things are moving forward with her.
Last stop, Jade's home in Gering, Nebraska.
Although Jade lives in Los Angeles now, he grew up as a small town girl. She's starting to fall in love with him, but her secret has wrecked previous relationships. She wants to tell him before her dad, his fiance, his mom or brothers tell him first.
Jade says Chris is the nicest guy she's ever brought home. Dad takes Chris off for a man-to-man conversation. Chris thinks she has small town values. Dad says that Jade has been too much for some of her boyfriends. Chris gets the hint that there's a side he hasn't seen.
The brothers say she's been trying to start her modeling career in Los Angeles and may have a hard time with small town life. The older one calls her a free spirit - a wild mustang. Chris hasn't seen this side. It's the quiet ones you have to watch out for.
Dad has a conversation with Jade about a man needing to support who she is. She tells her dad that the process has changed her.
After hanging with the family, she's ready to take him away to have a talk. We're evidently going to drag this part out all night long. All. Night. Long.
Jade takes Chris to a hotel room to talk to him about the Playboy thing. She finally gets around to telling him about a time in her life that she did things she would have normally said no to. After an uncomfortable silence, she admits it. He tries to remain expressionless as she explains that she wanted to tell him before he found out in another way. She offers to show him pictures. The man that he is says, "if it makes you feel more comfortable." She gets almost giddy to show him. He's into it until she gets to the trashier ones. Then, there's a video.
He didn't expect this from such a shy girl. Afterwards, he's kind of speechless and seems glad to have a drink. He says it doesn't change what he thinks about her, but I'm not so sure.
After his nationwide tour, it's back to Dubuque for a rose ceremony.
Who's going home? It's supposedly the toughest night of Chris' entire life. The first rose goes to Whitney.
Then, there's Kaitlyn.
Then the decision between virgin and Playboy bunny. How ironic. I really hope he picks Becca.
HE PICKED BECCA! Yay!
He walks Jade out, but on the way out, they sit down to talk. He tells her that she is amazing woman, but things have moved faster with some of the others. He's forced to make hard decisions. Blah, blah, blah. "It's not about what you said."
Then, the limo ride of tears. The "why me?"
Meanwhile, Chris sits down to question his own decision. He sheds some tears of his own contemplating possibly making the biggest mistake of his life.
We finally do see a "beautiful place to fall in love" next week. In Bali!
Tropical! Not dirt and desert or brown water.
3>