Tonight's episode of #thebachelorette was extremely painful
Another Monday night, another "I might as well be live blogging with the west coast" edition of "this week on
The Bachelorette
." I was doing Vacation Bible School, and while I got home fairly quickly after it ended at 8:00, I had to find something to eat, settle in a little bit, and now it's almost 9:00.
I'm hoping I can type fast, get through the commercials with the FWD button and be done by 11. We shall see.
Since there was no show last week, I don't really remember how many guys are left. Let's see... there's Luke, Robby, Jordan, James Taylor and Alex. Is there anyone else? Chase.
To start us off, JoJo has to recount how she wasn't ready to lose anyone at the rose ceremony last week because she needed more time. That's why she saved both James Taylor and Alex. It's getting more stressful because it's almost time to bring in the families with hometowns.
Back at the hotel no normal person could afford, the men are recounting the night before. Everyone thought that JT and Alex would both be going home when JoJo walked back in without a rose. Alex does his whining bit about not having his own one-on-one time (even though he survived a two-on-one) and getting a pity rose.
When Chris Harrison arrives, he asks the guys how they are doing. Alex replied, "confused." Harrison tells them that JoJo has a mind of her own, and when she wants to send guys home, she'll send them home. He tells them all that this week there will be four dates. Three are one-on-ones and the other is a group date. While there are no longer roses on the one-on-ones, there will be a rose for the group date.
Harrison continues by saying that JoJo is making a drive out into the country and one of them might as well ride with her. The rest of you on a bus. He presents the date card that reads:
"Alex, I've gaucho on my mind."
Alex thinks he has his one-on-one, and all the guys are glad he will possibly shut up about being the only one who hasn't had a one-on-one date. He feels like the outcast.
Well. He rides out to wherever they are going, but the guys go on a bus somewhere. Are they going to meet up?
JoJo is trying to figure out if there is anything there. There's some thumb wrestling in their car. And some snacks. JoJo feels comfortable with him, but there is no romantic connection there thus far.
Alex thinks JoJo needs to show him something if she's interested in him.
The men are completely unimpressed with their bus they have to ride on. They make the best of their time. The men make up a rap making fun of short Alex. Their rap is funny. Alex claims he can freestyle, and his rap is stupid.
It's the most boring car ride ever witnessed on this show. She's moaning in boredom.
She fakes that she knows what the time of the ranch is or that she speaks Spanish. According to JoJo, gauchos are strong and sensitive. Is Alex?
They make Alex dress up before going on a horseback ride. I think that JoJo is wearing heels or something. Not so appropriate for a ride.
The guys make a stop along the way at a food truck with some weird looking meat. You can evidently BBQ anything. Jordan is a picky eater, and evidently so is the neighborhood stray dog. He wants to part of the mystery sausage.
As Alex and JoJo start off their ride, he tries to hold her hand. After riding a while, their guides try show them how connected a gaucho is with his horse. The man is so connected with the horse it induces some kind of calming, beautiful bonding moment. They are told they can spoon with the horse. They lay down with the horse. I think they bond more with the horse than each other.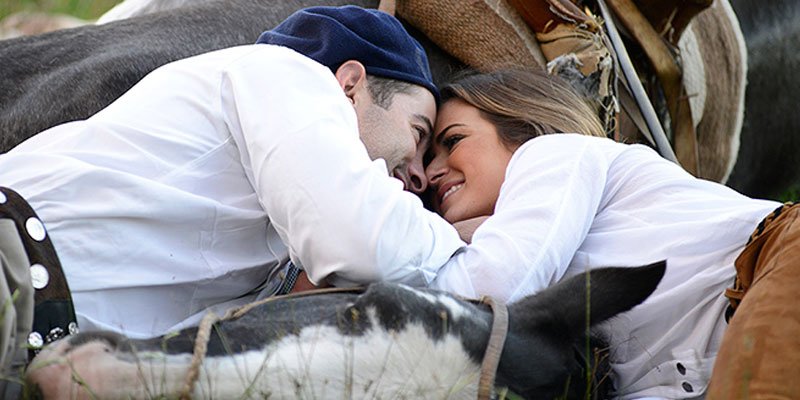 from the Twitter account of @People
So the rest of the guys are still on their group date with each other. They roll up to their home for the rest of the week. A polo club with an infinity pool.
Back on the date, Alex wishes there was a rose because he would get it. If he says so, he's about the most boring date ever. (Not that I would know from personal experience. Just in the history of this show.)
The date card arrives back at the wherever they are. "Jordan... Let's toast to love."
Jordan offers James Taylor a smirk.
Alex tells JoJo that if he comes home to meet his family, it will be his mom, brother, sister-in-law, and grandma. He then lays out that he thinks he's falling in love. In fact, he fell in love with her the moment he saw her. It has made it hard and easy and hard and easy. She is very quiet after the admission. She hasn't gotten much from him so far. She tells him he hasn't been so expressive, so she doesn't feel as excited as she should when he says he's falling in love with her. She doesn't feel like she can say it back to him. She's not on the same page. She doesn't think that she will get to that point.
In this awkward moment, JoJo decides she has to send Alex home instead of making him suffer the rest of the week. Their best time together turns into an awkward, can't-look-each-other-in-the-eye goodbye.
As I am typing up this blog, I'm interacting with someone on Facebook that tells me the episode gets worse. That's something to look forward to.
The next morning, Jordan meets JoJo to fly off on a private jet to Mendoza - wine country. On these dates, JoJo is trying to figure out if she can see a life with these men, and she does think she can see life with Jordan. She thinks it would be fun, laughter and passion.
After they feed each other a couple of grapes, they step in barrels to stomp grapes. Then after walking around with nasty feet in the barrel, they scoop up some grapes and juice to drink. From there, they get in a hot tub and rink wine.
Robby and Chase talk about how Jordan came in as a front runner because she might have heard of him since he was in the NFL. They see red flags though. Arguments with guys in the house...
Jordan wants JoJo to meet his mama. In fact, he tells JoJo that she can, if she wants to. The invite is there.
Back at the suite, the next date card arrives. "Chase, James, Robby... let our love soar."
Chase wants to know what JoJo wants to do with Luke that she can't do with him, but at least there is a group date rose.
Back to Jordan, over "dinner," he asks her what the best part of the day was. "Just getting to travel all day with you." It was evidently a marathon of the day. The conversation moves to the topic of hometowns. Who would she meet? Mom (Darla). Ed. Hopefully, the funny oldest brother, Luke, and Carl Weathers (the French bulldog). But, not Aaron, the middle of the brothers. Jordan and Aaron don't have much of a relationship even though he loves him. No hard feelings, just not much of a relationship since Jordan has chosen to stay close to his parents while Aaron is doing his thing.
Jordan brings up how what James Taylor said about him being entitled last week bothered him. Football didn't make him happy in the same way it did Aaron. He chose to do his life differently.
JoJo says how much she liked him at first scared him, but the fear dissipated. She thinks they are on the same page. Jordan says he is so in love with her, and that he realized it a couple of weeks ago. "It's so real." This time her response is, "that makes me so happy." Smooch. Smooch. Happiness. Excitement. Love. She feels so loved.
The next day, it's raining, so the date isn't going to be a day of outdoor adventures. Instead, it's staying in, playing games, and eating greasy junk food.
First game is seeing how many french fries JoJo can stuff in James Taylor's mouth. It's not attractive, and there's some gagging going on. JoJo is amused for some reason.
From there, JoJo makes them sit in a "massage train," followed by Pictionary, charades, and Truth or Dare. JoJo dares Robby to strip down to his underwear and running around the hotel halls, knocking on doors. Robby moons them, then apologizes to his mamaw who will be watching this.
James Taylor tells JoJo the other guys are into checking out women in magazines or checking out the local women going down the street. The watch the Brazilian version of
The Bachelor
, all piled up in the bed. With James Taylor and Robby picking on each other, Chase may get away with the rose.
JoJo takes the guys each off for a conversation to decide if she wants to visit their hometowns. Robby is up first. She is nervous because Robby's last girlfriend never got the approval of his dad. They dated for a little over three years, but he tells her everything about their relationship was wrong. It was a bad break up, about four and a half months before the show. JoJo asks if he is sure he's ready for another relationship and to be engaged at the end of this. Oh, but he's so over the last girl.
Next up is Chase. He tells her he feels good about them. There are nerves with other guys around, but he's confident in them. He's 100% ready to bring her home because he wants to spend the rest of his life with her. Major proclamations.
Finally, it's James' turn. He starts off that he doesn't know what kind of relationship she has going on with everyone else, but he thinks they have a sweet, great relationship. However, he thinks there may be something more physical attraction with others. She assures him he has all the qualities she would like to have in an husband and father to her children. She asks him who she would be "meetin'" next week. She really does drop her G. There's his dad (also James Taylor), his mom... Anyone he loves his family loves. He can't wait to tell his parents what kind of lady they are going to meet.
The men gather up in the suite and talk, waiting for JoJo to give one of them a rose. James believes that of the men in the room, one of the men who doesn't get the rose will be going home. Robby gets annoyed because he doesn't think that Luke and Jordan are the front runners. He thinks he is a front runner. He doesn't think the guys that got the one-on-ones are the automatics. JoJo comes back in the room and its on the couch between Chase and Robby. She leaves forwards to grab the rose, gives a little speech, then asks Robby to accept the rose.
Robby is the first guaranteed a hometown.
It's hard. It's personal. But since Robby got the rose, she's going to spend a little more time with him and send the others back to their home away from home, defeated.
The next day is the date with Luke. They are also going to ride horses. he knows what he's doing. He has to explain what breaking a horse is. He's in his element.
JoJo at first thought Luke was just good looking, but now thinks he's the total package. Handsome. Smart. He's for sure a man. There's no doubt in JoJo's mind. (And here I thought he might actually be a woman.)
Next up is skeet shooting. He teaches her all about that too. She hits the target on her first shot. It's a miracle. Much squealing and hugging follows.
Luke thinks it's going to be really easy for JoJo to meet his friends and family. They can see a life with each other.
Luke's date isn't going to go late into the night because there is going to be a rose ceremony tonight. She doesn't think she needs a cocktail party.
Chase and Jordan are surprised when Luke comes back early. When James comes up, Luke announces to all of them the rose ceremony is coming up tonight.
Chase and James feel like they are the ones on the chopping block since they didn't have a one-on-one and there's no cocktail party.
When JoJo comes in, she talks about how she remembers this same pre-hometown cocktail party last season. She would be lucky to end up with any of them, yet...
Luke
Jordan
Chase
That leaves James Taylor packing it up and heading back to Texas. Part of me was rooting for him, but I'm honestly surprised he has lasted this long.
JoJo walks him out, then asks him to sit down and talk. She tearfully says, "I am so sorry. You have touched my heart in so many ways... you make me a better person... you deserve..."
He's like, "yeah, I've heard that before. Thanks for being sweet to me."
After putting him in the car, JoJo sits down to sob a little bit.
Next week are hometowns. In the previews, we see that Jordan's brother's hair is just as bad as his.